225 Teudts Road, Bundanoon NSW 2578
02 4884 4262


Welcome visitors back for Sunday meditation and Dhamma teaching in 2022, by appointment only.
Numbers will be restricted, and masks may be required. Bookings only, by email: [email protected]
Please check our website or instagram for update.
Thank you very much for your kind cooperation.
You are welcome to form a group of friends or work colleagues who are interested in Buddhist teachings and meditation to spend one Sunday between 10 AM- 2 PM at the monastery. Please contact: [email protected]
 For more enquiries, please contact us by email.
Instagram
To follow up our current activities, please visit Instagram @kimmcsweeney52  or   #sunnataramforestmonastery.
Helping the monks
Every Sunday is a working bee. Please email us if you would like to help the monks working in the garden or cleaning. Thank you very much.
6 - 8 PM Buddhist Chanting, Guided Meditation & Dhamma talk by the monks. All are welcome.
Buddhist talk and a short meditation session for people who are interested to learn Buddhism between 10 AM -12 PM.
Booking is essential.  Thank you very much.
After experiencing teaching Buddhism in many high schools, we have decided to include a section in our website to help those students studying Buddhism in HSC. Read more in 'Dhamma Teachings/Buddhism for Students'
Sunnataram Forest Monastery now establishes a special training program: Teaching Monks: Further Training in Australia, to support international Buddhist monks who want to learn how to teach Buddhism in Australia and the West.
We welcome any non-Thai monk who would like to undertake this program to experience teaching Dhamma and helping Dhamma work in Australian culture for 3 months. Please email us.
We would like to thanks to all friends who kindly donate Bunning Gift cards and other gift cards to the monks. We have been using them to purchase many building materials to maintain the monastery and to support our Dhamma teaching programs. May all happiness and wisdom be with all of us. Sadhu
Thanks to Mick Rattanapanyo for your kind help.
Activities in October-November-December 2022
10 AM              A guided meditation and Dhamma talk
11 AM              Vegetarian lunch for all, prepared by our volunteers. Please don't bring your food to offer the monks.
12.30 - 2 PM  Viewing the monastery garden, exhibition or helping the monks to work around the monastery
Activities in January 2023
Weekend Meditation Retreat

Fri 20th Jan start 6 PM- Sun 22nd Jan finish 2 PM
Before you book in for the retreat, please be sure that you can complete the whole retreat. Leaving the retreat earlier is considered to be disrespectul and unfair to many friends who can't come due to your booking and our volunteers who need to prepare the meals. Please click here and email us your application form.  Thank you.
Activities in February 2023
Weekend Meditation Retreat

Fri 17th Feb start 6 PM- Sun 19th Feb. finish 2 PM
Activities in March 2023
Weekend Meditation Retreat

Fri 17th Mar start 6 PM- Sun 19th Mar finish 2 PM
Activities in April 2023
Easter Long Weekend Meditation Retreat

Fri 7th Apr start 6 PM- Mon 10th Apr finish 2 PM
Activities in May 2023
Weekend Meditation Retreat

Fri 5th May start 6 PM- Sun 7th May finish 2 PM
10 Things You Probably Didn't Know About Sunnataram Foresst Monastery in The Southern Highlands
The Fold Southern Highlands by Jessica Raschke Jan 2022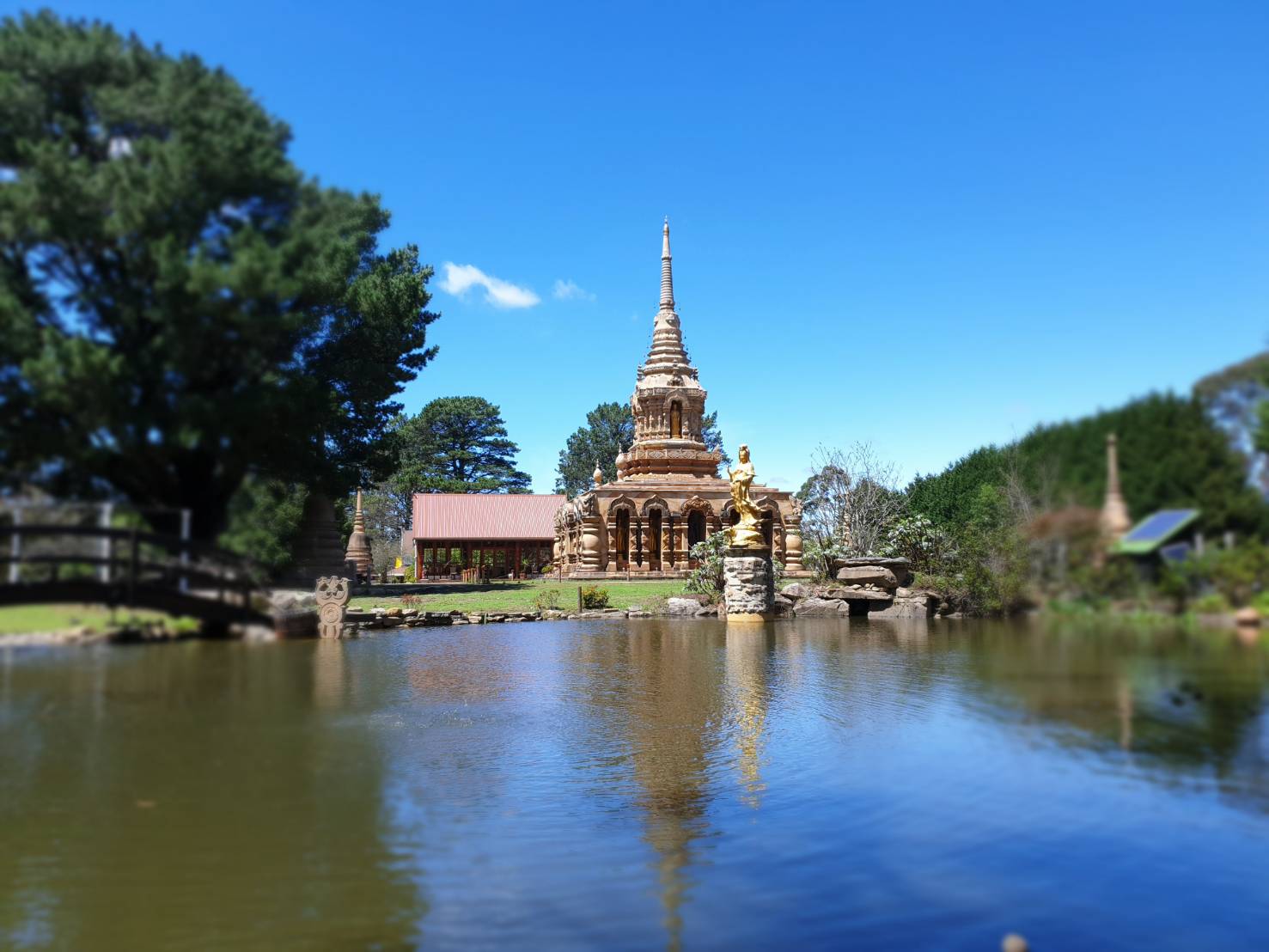 Donation for Bush Fire
Account Name: Sunnataram Forest Monastery Incorporated
ANZ Bank, NSW, Australia
Swift code: ANZBAU3M
BSB: 012 547
Account No. 2370 37944
The monastery has been burnt twice by the Morton fire on 10 & 23 Jan 2020. We lost almost all Ladies' and Men's accommodation, 25 water tanks, water pumps, meditation bushland and a lot of building materials.
Thank you to everyone who has kindly made a donation to rebuild the monastery

Sadhu Anumodhana
Bush Fire 2020 Record
The monks are grateful and touched by all of your support and concerns.  We have received many phone calls and emails from many monks and nuns, supporters and retreat friends.  We wish everyone to be safe and peaceful.  With gratitude from all at Sunnataram Forest Monastery, Bundanoon.
Retreat Dates
For the Year 2023
Jan 20th -22nd
Feb 17th – 19th
Mar 17th – 19th
April 7th – 10th  Easter
May 5th – 7th
Due to the 2020 Bushfire damage to the monastery, we have only limited accommodation. Please make sure to complete the whole retreat before your booking. All retreat is by suggested donation. Please email the monastery for inquiry. Thank you
Things We Need
Donation to rebuild meditation huts to resume our monthly meditation retreat.
Sunnataram Forest Monastery
ANZ Bank, NSW
Swift code: ANZBAU3M
BSB: 012 547
Acc No: 2370-37944
Thank you for your kind support. May the Blessings of the Buddha be with all of us, to be healthy, weathy and wise.
สิ่งของที่ทางวัดต้องการ
ในขณะนี้ คือปัจจัยในการสร้างศาลาที่พักปฏิบัติธรรม ของสตรี ใหม่
ขออนุโมทนาในความเมตตาเสียสละของทุกท่าน ขอคุณพระรัตนตรัยได้อภิบาลคุ้มครองรักษาให้ทุกท่านมีความสุข สำเร็จในสิ่งปรารถนาทุกประการเทอญ